Master Brand Logo
This is our primary logo. It is how people identify our brand. Carefully crafted, it should be showcased in the best possible way across all Life Time content. Use this logo when the audience is consumers.
Most goods use the R-ball version of the logo, including:

All-purpose sports bags; all-purpose carrying bags; tote bags; duffel bags; backpacks; and purses. Sports bottles sold empty; water bottles sold empty; shaker bottles sold empty. Towels. Clothing and athletic apparel, namely, shirts; t-shirts; tank tops; pants; sweatpants; shorts; jackets; coats;  leggings; loungewear; headwear.

If an item is not listed above, it should use the TM version of the logo. 

You can download this version here.
PRIMARY
Silver Version
Digital, Video & Print

Offical Life Time® Silver on white or our lightest gray tint backgrounds only.

Apparel, Products & Environmental

A silver-tone material on very light or dark materials that provide good contrast.
In Video
Use the logo animation — white background, silver text —  at the end of every video. Do not adjust the size of the logo when using the downloadable templates.
Minimum Size
In digital, minimum size is 18px tall. In print, it is 0.2125" tall.
Clear Space
Measured using the "L" of the Master Mark. No other graphic elements can be within this area.
Do Not Rotate
Never use the logo vertically or diagonally – only horizontally.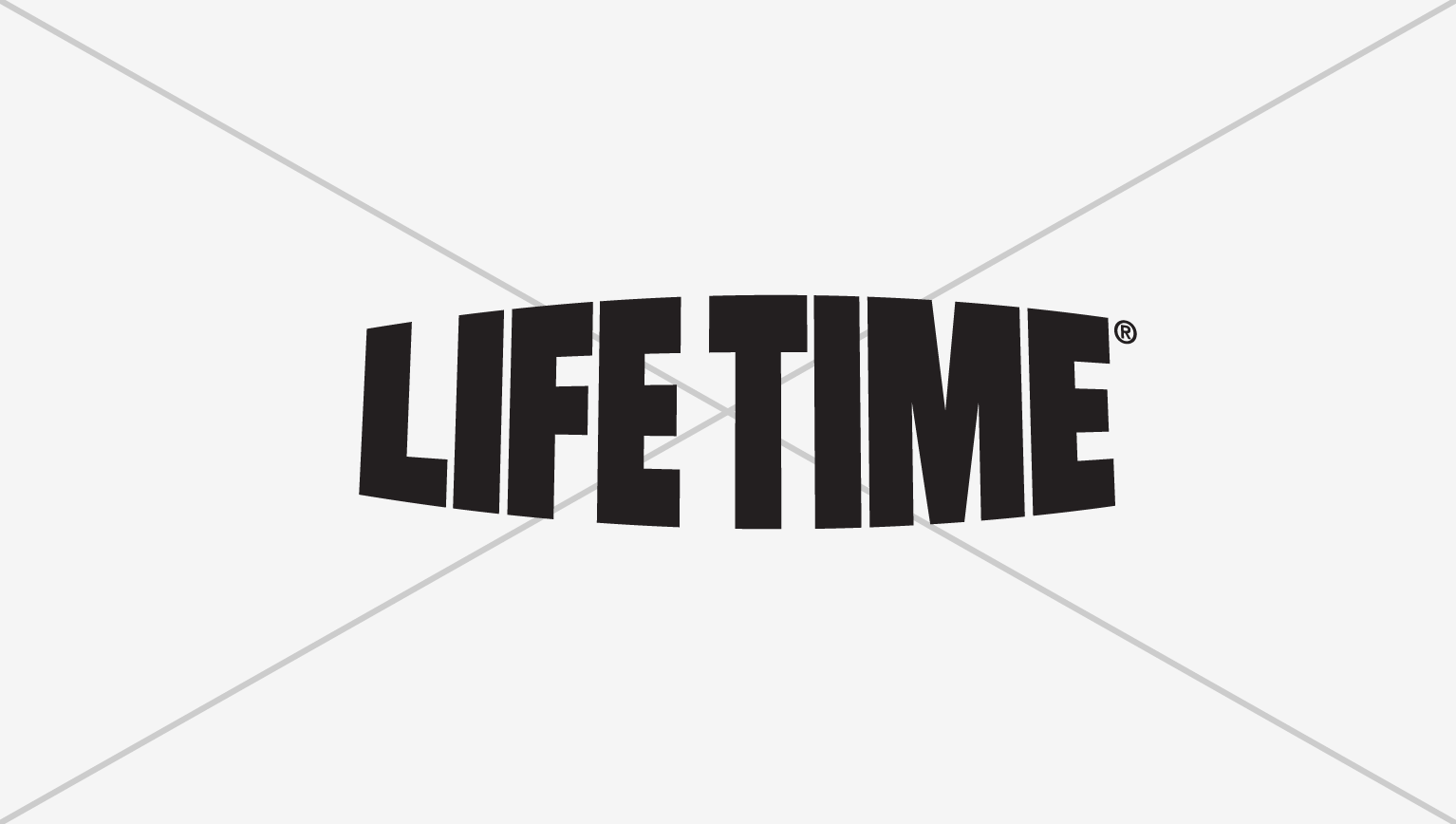 Do Not Alter
Do not adjust, stretch, skew, color change or alter the logo in any way.
In Writing: Life Time
Don't forget the space between "Life" and "Time".
Examples

"Whatever your goal, you can reach it at Life Time."

"Life Time is designed with health, fitness and community at its core."

"Monthly memberships are the most popular way to experience Life Time."
We prefer to use our logo to maintain our trademark, so it is not necessary to include an R-Ball in copy unless there is no logo present on a piece. If that is the case, the first instance must include the R-Ball: Life Time®