Principles
The following voice principles capture important concepts for the Life Time brand. One or more principles can apply to any given message. So, be sure to get to know this list and the related examples.
Our member experience is at the center of everything we do. Listen to our members. Practice empathy. Because when you care about individual members, you can care for all of them.
Start with a complimentary onboarding session. This 60-minute session will help you determine the best way to begin your journey at Life Time. You'll meet with a Personal Trainer to discuss and set a plan for what you want to achieve, learn how to the fitness floor equipment that's right for you and go through a personalized workout.
— Example from Member Onboarding
2
Speak with Energy
We are an active brand and we speak with an active voice. Use headlines to drive engagement and CTAs to spark action.
We are driven by our purpose, to champion the healthy, happy lives. Let this purpose shine through in how we communicate our offerings, tell our stories and engage our audiences.
At Life Time, we are committed to making a positive impact on the health and wellness of our members and employees along with the communities in which we operate. From collaborating on energy-saving light bulbs and low-flow showerheads to increasing efficiencies in steam rooms, we are constantly looking for new ways to reduce the impact on the plant.
— Example from Sustainability Content
4
Lead with Why
Everything we do has a "why" behind it. Whether we are designing a new program, service, or menu item. We are well-researched and purposeful with every decision. Be sure to let that expertise come through to our members.
Focus on how we can inform our audiences with information that allows them to make an educated decision about what is right for them. We don't need to sell our products and services, instead we can make relevant connections.
The power of working out together. Discover how training in a fitness community can improve your performance, keep you accountable and help you tap into a greater sense of purpose.
— Example from a Training Promotional Email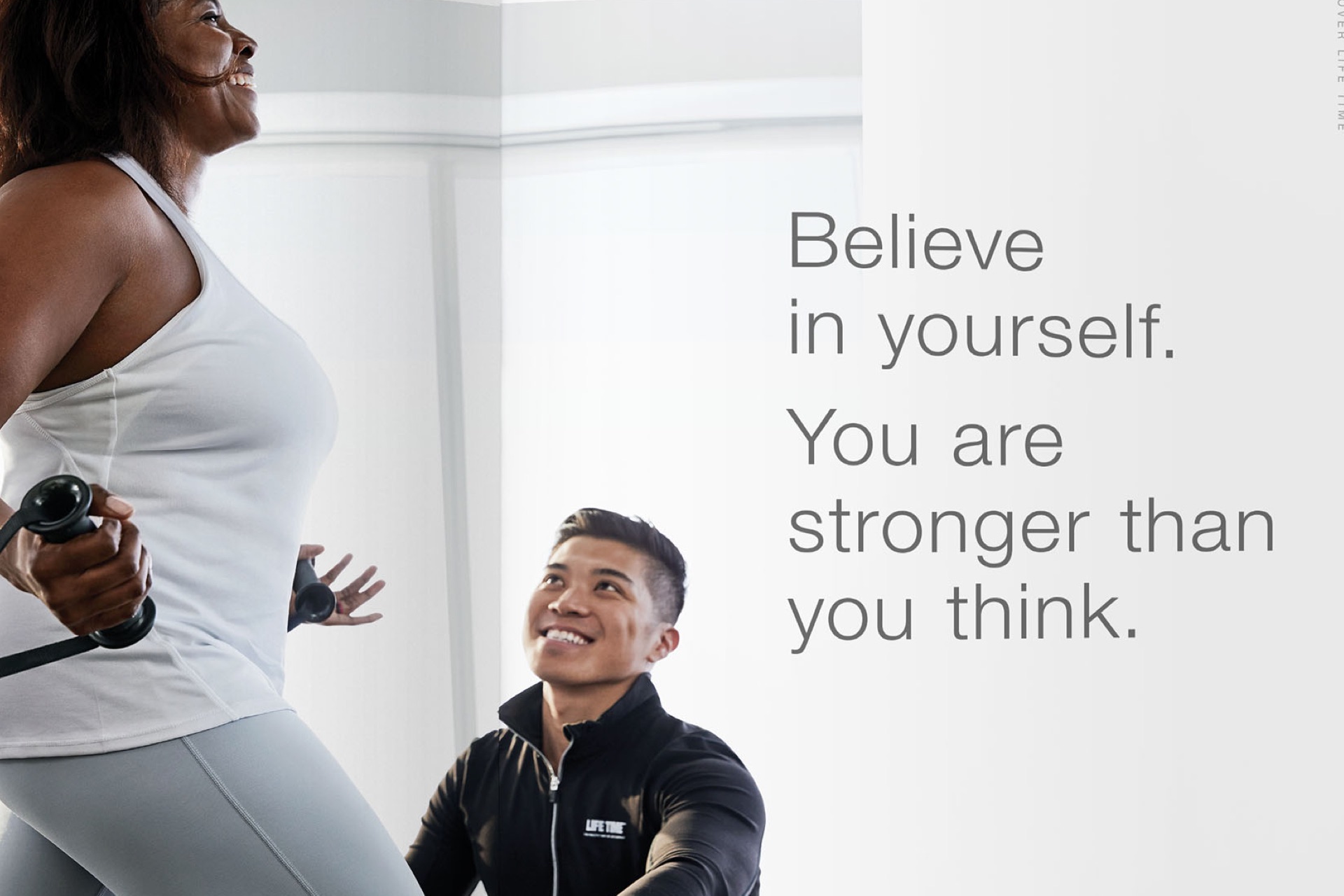 6
We're For All
Life Time is an open and inclusive community. What connects us is our healthy lifestyle journey. We recognize that everyone is at their own place on that journey, and through the support of a community we can make strides we never thought possible.
7
Seek Clarity
Life Time is a big place with a lot going on. We need to clearly communicate with our audiences. Skip the overly clever or flowery copy and be sure we are saying it simply, positively and clearly.
8
Elevate the Experience
Life Time is a premium brand. We are in a category of our own. Use terms, phrasing and concepts that reinforce a high-end experience and reaffirm the expectations of our members. 
There are two ways to look at everything. Find the positive rather than the absence of a negative. Optimism is a force that can motivate you to try new things and stretch your boundaries. Find the joy in life and pass it on.
For every passion and pursuit, you'll find a community full of support, energy and expertise. So do what moves you. Do what you never thought possible.
— Example from Discovery Book
10
Look Forward
As a brand and a maker of products and programs, we are constantly searching for innovative ways to champion healthy, happy lives and create better experiences. When something is new, tell our audiences about what is innovative about it and why it creates a better future for us all.